There's always something going on
All year round
This town is simply
A great place to be
Welcome to Tarbes! Let us surprise you…
Tarbes is at the foot of the Pyrenees, between the Atlantic and the Mediterranean, and is a town where we take the time to enjoy life, with the added bonus of an absolutely breath-taking view of the Pyrenees that you'll never get bored of.
You'll enjoy exploring this capital of the Bigorre region for a relaxing stay guaranteed, strolling along the streets lined with palm trees, lazing out on the terrace, in the parks or wandering around the authentic markets showcasing the best of south west France.
You can't possibly go back home without having tasted the countless delicious local specialities, that can all be found at one of the biggest farmers' markets in south west France for example!
There's always something going on here, all year round! Culture, sport and festivals bring the town to life and there's something for everyone: the International Tennis Tournament 'Les Petits As', 'Tarba en Canta' Polyphony Festival, 'Equestria', festival of equestrian creation, 'Tarbes en Tango', International festival for Argentinian Tango, to name but a few.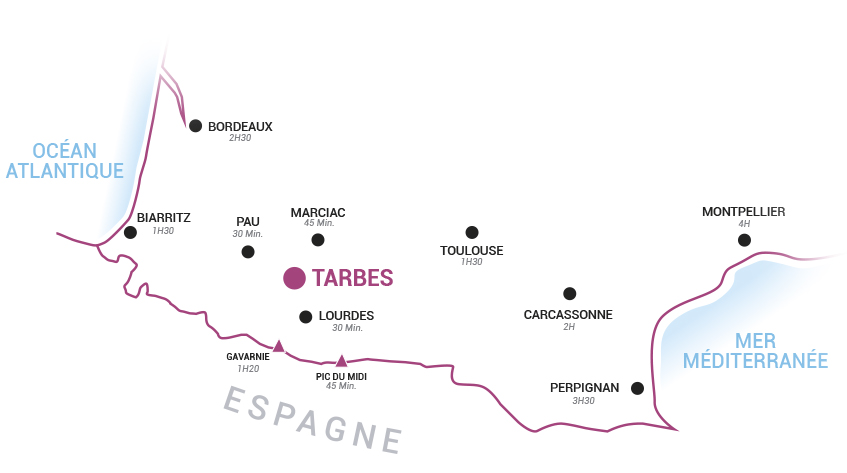 As for the heritage sites, Tarbes is a town of equestrian tradition and is the birthplace of an Anglo-Arabian breed at the stud farm created by Napoleon I. Here, you can also learn all about Napoleon's hussars at a museum with a one-of-a-kind collection, found at the heart of Massey gardens, listed as a 'Remarkable Garden'!
The architecture of the typical houses here is evidence of the quality of the marble from the Pyrenees. As you explore the streets of Tarbes, you will also be surprised to come across some architectural treasures from the 20th century.
The Pyrenees are our playground!
From Tarbes, you can easily get to some major points of interest. You can go hiking in Gavarnie, go skiing at our family-friendly resorts, have a moving and spiritual experience in Lourdes, a pilgrimage site, go for a family picnic on the shores of a lake, before heading up to the summit of the Pic du Midi or along the iconic mountain passes used by the Tour de France!
If you still have some time left, from Tarbes you can also go and taste the Madiran wines at a winegrowing estate or make a detour to some of the pretty villages of the Gers nearby and discover all the wonders on offer in the Occitanie region…