Tarbes Cathedral
This is the oldest monument in Tarbes, recognised by the cobbled streets, and it can be found in the historic district along with the prefectural office buildings for the Haute-Pyrénées.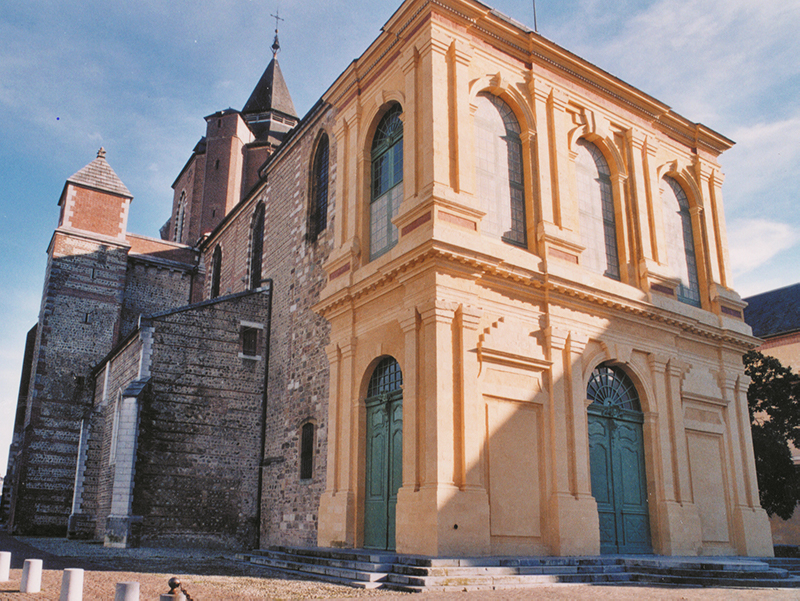 It was built onto the ruins of a Gallo-Roman site and religious constructions, and is still mostly of Romanesque style today, with its lantern tower that resembles the churches of Laveden in the valley of the Pyrenees.
Since it was built in the 12th century, there have been various additions, repair work and modifications over the years. The east 18th-century wall is evidence of that, in a very surprising classical style.
Inside, the remarkable high altar and Baroque-style canopy are perfectly blended with the green and red local marble and gilded wood. This decorative detail is a real treasure and was inspired by the same decoration at Saint Peter's Basilica in Rome.
Added bonus
Before leaving, look for Louis XVI's testament engraved on a black marble wall!
This Cathedral is also known as the Cathedral of Notre-Dame-de-la-Sède, 'sède' meaning the 'bishop's seat'.
Find out more
Follow the heritage trail indicated by stud markers on the ground and available on the application Tarbes Tourisme. You'll find out some fascinating facts about the heritage sites of Tarbes!
The cultural tour guides organise interesting tours all year round.
 In July and August, in partnership with the Tourist Office, you can book your places for the tour 'Tarbes : capitale bigourdane, capitale du Cheval' (Tarbes: capital of the Bigorre region, horses' capital) which will lead you from the medieval historic town centre to the magnificent Fould Villa, via the local products on the market. You'll particularly enjoy the guide's anecdotes during the tour!
Contact details
5 place Général de Gaulle
65000 TARBES



Opening hours
Free admission from Monday to Sunday: 7am – 6pm

Disabled access: NO

Pets welcome: NO