The Musée de la Déportation et de la Résistance
What could be better than a former school to present the history of Deportation and the Resistance to visitors with an educational visitors' tour? This is a moving museum and the collections include accounts from deportees themselves, so that visitors can get a glimpse of local history.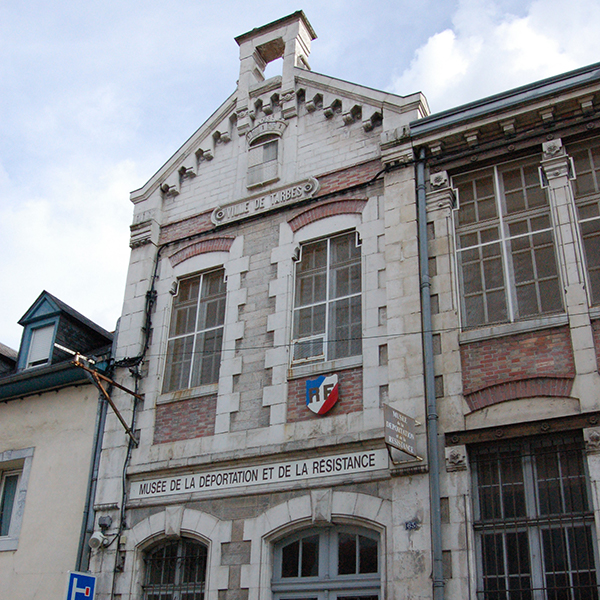 A tour suitable for the whole family, to do your part to keep these memories alive
and to ensure that the accounts of the battles to fight oppression, hatred and racism are never forgotten…
The Musée de la Déportation et de la Résistance in Tarbes is in a remarkable brick and stone building and the collections take visitors on a discovery of the Resistance fighters in the Hautes-Pyrénées, putting Tarbes at the centre of the operation.
The museum is a place of remembrance, but the collections also have another role to play, to ensure that future generations never have to go through the same thing again.
The museum exhibits the local history of the Resistance: accounts from prisoners of war, escaped prisoners, deportees, internees, the Bigorre Regiment, those who passed through the Pyrenees, members of the Resistance such as the 'Corps Franc Pommiès' volunteer corps who were very active in the south west of France. Tarbes was a key location in the Resistance and so was awarded the 'Croix de Guerre' (War Cross).
Added bonus
Keep up-to-date with our events' calendar, and find out about the themed exhibitions held at the museum on a regular basis.
A brief history lesson
The Museum tour presents 3 chronological steps from history:
Unrest in Europe: 1933-1942
Resistance and repression
Deportation: from oppression to the Liberation
Contact details
63 rue Georges Lassalle – 65000 TARBES



musee.deportation@mairie-tarbes.fr

Disabled access: no

Pets welcome: no
Opening hours
Monday to friday: 9am to 12pm and 2pm to 5pm
Closed on weekends and public holidays
Prices
Admission and tour free-of-charge