By bike
Take advantage of the cycle paths throughout the local area and the new initiatives for exploring Tarbes at your own pace, in the fresh air, while looking after the environment at the same time!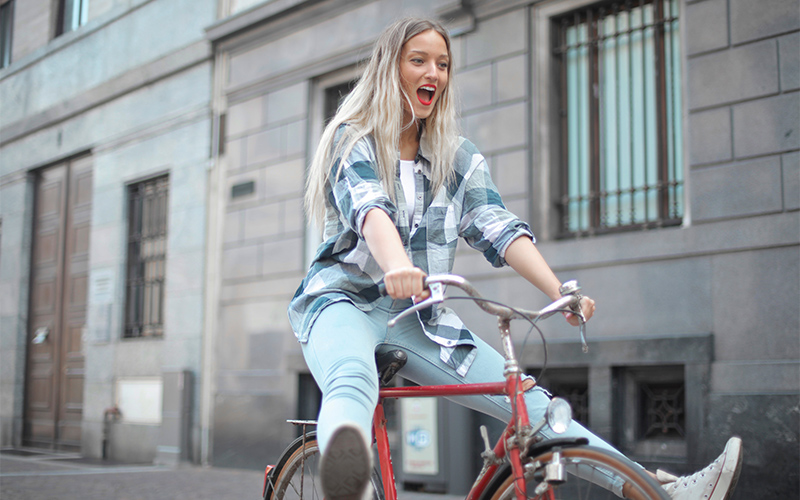 In Tarbes, we like getting around by bike, and the town is perfectly adapted to this mode of transport!
Using your legs to pedal yourself around is good for your health, and for the planet!
Take advantage of the 17.6 km of cycle paths throughout the town and make use of the various initiatives that the local council has introduced, making it easier to get around by bike.
New legislation rules that in certain conditions and on some streets, cyclists do not need to stop at red lights:
Along the Vélorue cyclists are given priority!
Take advantage of this 2 km cycle route in the town centre, and ride around the town with complete peace-of-mind!
How does it work? Cyclists can ride in the middle of the road here. If they do, car motorists are obliged to stay behind cyclists, always with a smile of course!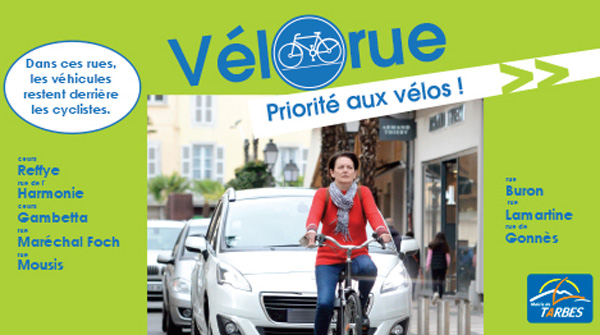 On these roads, cars must remain behind cyclists: Cours Reffye >> Rue de l'Harmonie >> Cours Gambetta >> Rue du Maréchal Foch >> Rue Mousis >> Rue Buron >> Rue Lamartine >> Rue de Gonnès.
SELF-SERVICE ELECTRIC BIKES AVAILABLE
Use Electric Bikes whenever you want!
Pick up your bike at the following places: Place Brauhauban, Place de Verdun, SNCF train station, ENIT, Place Marcadieu, the Pradeau district, the Arsenal district (in front of the cinema CGR)
> €1 / 30 min
Access the service via the website or download the application TLP Mobilités
BICYCLE RENTAL FOR THOSE WHO DON'T HAVE THEIR OWN

MOB 65
31 rue Georges Lassalle in Tarbes


From Monday to Friday: 9am – 12pm / 2pm – 4pm
Prices:

1st September to 30th June: €1/day, €5/week and €20/month
July and August: €3/day, €15/week and €50/month
Deposit: €100 for a standard bike and €200 for a MTB