Spectacle "La Belle au bois dormant"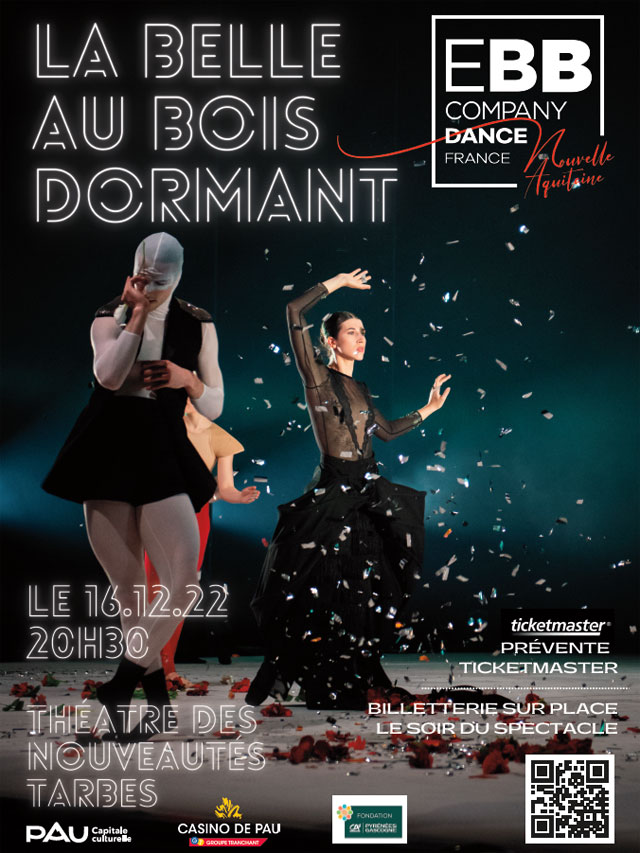 ©
Coordonnées
44 rue Larrey
65000 TARBES

Le 16/12/2022 à 20:30
TARBES
---
Spectacle présenté par EBB Dance Company
Dans le conte de la Belle au bois dormant, une jeune princesse dort pendant cent ans, cachée dans un palais. La végétation de la forêt empêche quiconque de s'approcher.
Partant de cette idée, le chorégraphe Jean Philippe Dury retravaille l'histoire, se demandant combien de beauté cachées attendent d'être découvertes.
Ainsi, il développe un divertissement frais, jeune et passionnée où il y a autant de belles au bois dormant que de personnes aimées.
Le spectateur ne sait pas qui est la princesse et le prince. Qui dort ou qui est éveillé.
Basé sur la version musicale de ballet éponyme de Tchaïkovski, créé en 1890, Jean Philippe Dury élimine le conflit entre le bien et le mal. Les danseurs se déplacent comme des elfes dans un monde magique.
Distribution
Chorégraphe : Jean-Philippe Dury
Musique : Piotr Illich Tchaïkovsky
Distribution : Elephant in the Black Box
Jean-Philippe Dury, un talent à suivre !
Interprète au Ballet de l'Opéra de Paris, aux Ballets de Monte-Carlo, à la Compagnie Nationale de danse de Madrid, mais aussi aux Grands Ballets de Montréal, il était naturel pour cet insatiable créateur de compléter ce prestigieux cursus en fondant sa propre compagnie de danse, Elephant in the Black Box company, en 2013.
La compagnie est reçue par de nombreux festivals (Festival International des Arts de Corée du Sud, Dance Salad Festival
de Houston (USA), Festival Almada au Portugal, Festival BAM de Tenerife, Festival Madrid en Danza en Espagne, Fall for
Dance Festival - New York City Center, Festival le Temps d'aimer de Biarritz, Cadences d'Arcachon...).
Tarifs
De 30 € à 35 €
De 25 € à 30 €
De 15 € à 20 €