The Musée Jean-Marie Daureu
Welcome to Tarbes' museum devoted to firefighters!
Here, you'll find an impressive collection of vehicles that are no longer in service, as well as old-fashioned equipment, uniforms, etc.
You'll be whisked back to your childhood, to learn all about the profession of a firefighter through the ages!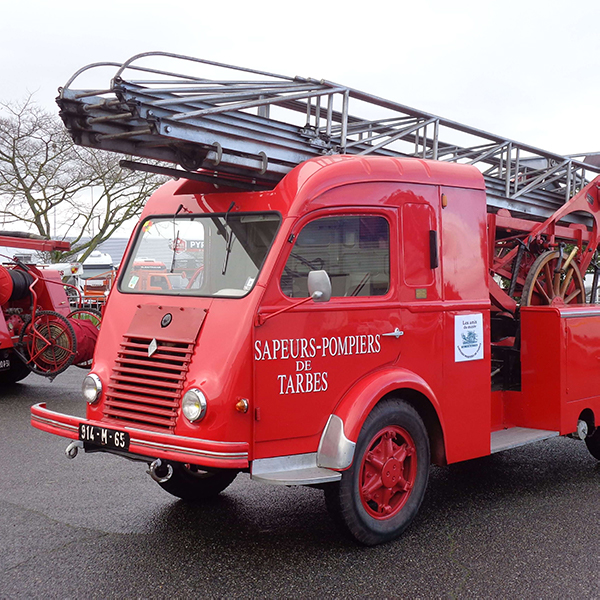 Tarbes' museum devoted to firefighters
A fun and surprising discovery of the firefighter profession through the ages
The association 'Les Amis du Musée des Sapeurs-Pompiers de Tarbes' (Friends of the Firefighter's Museum of Tarbes) is above-all a group of friends, all either current or former firefighters of Tarbes, who want to keep the memory of this profession through the ages alive.
In 1980, upon the initiative of Jean-Marie Daureu, they decided to start a collection of vehicles and equipment in good condition.
Come and meet this team of passionate firefighters who will tell you some fascinating stories and anecdotes, that's when they're not busy repairing or polishing their superb vehicles!
Today, this museum exhibits a rich collection in a 1,700 m² exhibition space, including 45 fire and emergency vehicles, all of them restored right here and now in perfect working order, 23 motor pumps, 13 hand pumps, a significant collection of uniforms and items of clothing (French and foreign), miniatures and other objects related to firefighting.
Guided tours available all year round, with a reservation only

Contact details
Musée des Sapeurs-Pompiers de Tarbes
Site de l'Arsenal Bat 206
4 rue Charles Bequignon
65000 TARBES

http://museedespompiersdetarbes.com/

 +33 6 19 65 37 98   /  +33 6 37 92 19 00 /  +33 6 47 48 10 80
Horaires d'ouverture
Guided tours available with a reservation only
Prices
Admission with voluntary participation

Disabled access: yes

Pets welcome: yes